CINEPUCH V20AE+PR版豪华视频效果套件调色LUT音效视频素材转场过渡FX特效素材包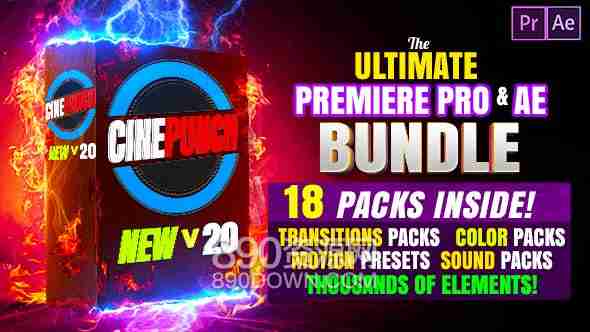 【AE+PR资源包介绍】FCPX版本点这里(vip资源)
文件大小:4.58GB 解压后:6.76GB
使用帮助:视频教程+PDF
详细介绍请看下面
注意:CINEPUNCH不是插件。是资产、是素材、是各式各样的素材包打包的集合。 下载CINEPUNCH后,请按序列依次来了解CINEPUNCH,从1、2、3、4……依次看
此套装中还有很大一部分内容素材(包括使用教程)需要通过提供的各个PDF文件中的下载链接自行下载。
下载这些资源(在Google 云端硬盘),可能需要翻墙。
原版内容均有细致分类,但是均为英文命名,介意的请勿下载,

CINEPUNCH 是世界上最大的 Premiere Pro 和 After Effects 捆绑包!
Videohive官方售价59美元!
CINEPUNCH  V20 包含以下内容: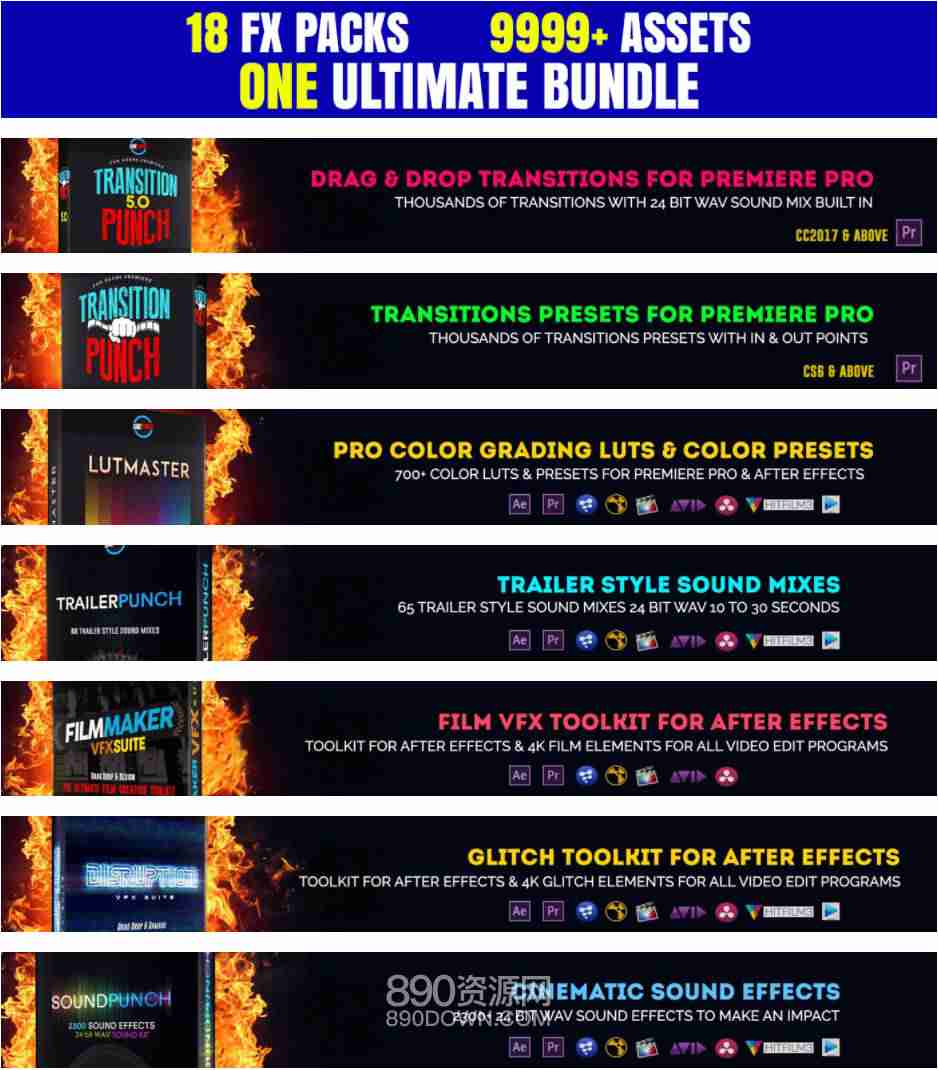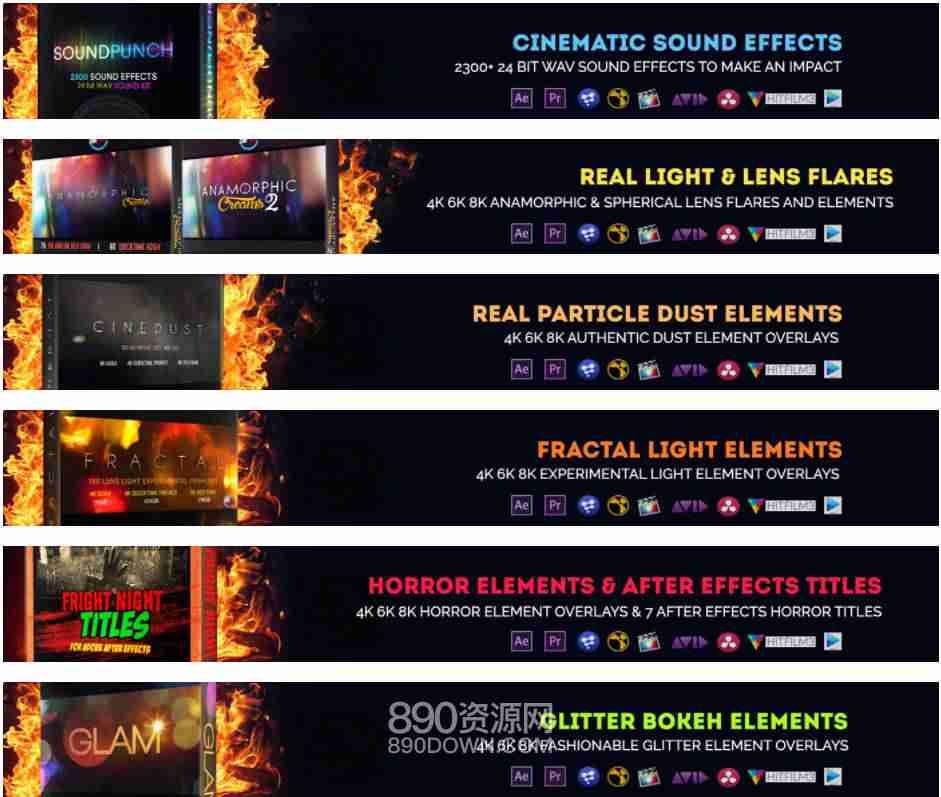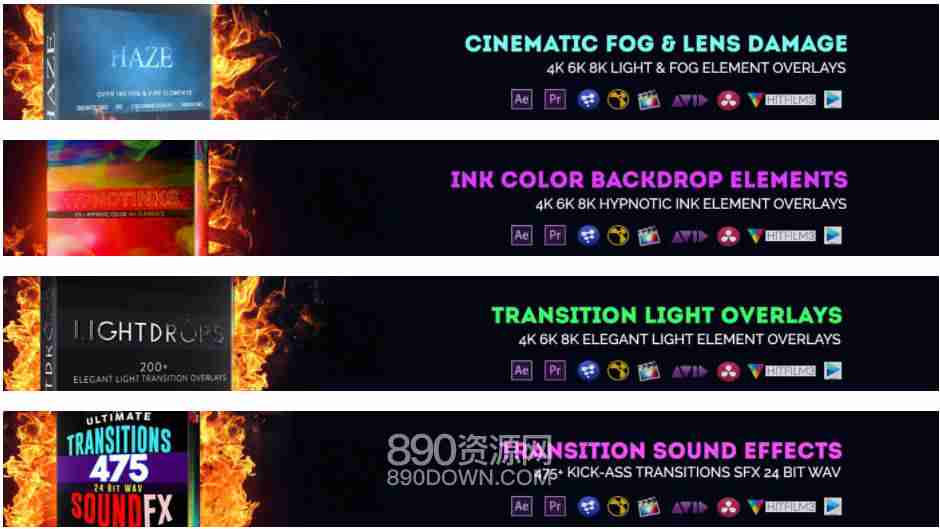 CINEPUNCH – Transitions I Color LUTs I Pro Sound FX I 9999+ VFX Elements Bundle V20
CINEPUNCH is a Massive Variety Bundle of Cinematic Tools, Assets and Elements for Adobe Premiere Pro and After Effects. Think of it as your Personal FX LIBRARY. It was created to help filmmakers and video editors have an abundance of tools for creativity while saving their money. If you are a Filmmaker, your work will benefit greatly from CINEPUNCH!
The STORY I Rather than separate every tool and sell individually, I wanted to pack it all together, build and give you as many different tools and packs as I possibly could. And with every new update, provide new tools, packs and add-ons free for life for customers. Over time it has become the Biggest Premiere Pro & After Effects Bundle in the World! The Bundle that keeps Growing! The Gift that keeps on Giving!
CINEMATIC DRAG & DROP TRANSITIONS with PRO SOUNDS & MIX
FAST & SIMPLE! Simply import Transitions into your Project and Use. Drag & Drop Transition between your shots. No re-saving project files. No cheap mp3 sound effects. Pro Sound Mixes attached with each Transition.
Inside TRANSITIONPUNCH 5.0 includes THOUSANDS of Drag & Drop Premiere Pro TRANSITIONS with Sound Mix Attached – The ULTIMATE TRANSITIONS SOUND PACK I 475 24-bit wav Essential Transitions Sound Designs. 70 Categories. And MOTIONPUNCH 250+ Drag and Drop Motion Presets.
TRANSITIONPUNCH 5.0 FOR CC2017 & ABOVE I PRO TRANSITION SOUND PACK I TRANSITION PRESETS PACK
CINEPUNCH is the Biggest Adobe Premiere Pro & After Effects Bundle in the World! Period!
HERE IS EVERYTHING YOU GET SO FAR!
TRANSITIONPUNCH 5.0 Drag & Drop with SFX (Premiere CC2017 & Above)
TRANSITIONPUNCH (1200+ Transition Presets for Adobe Premiere CS6 & Above)
The Ultimate TRANSITIONS SOUND PACK; (475 Transition SFX – 24bit)
LUTMASTER – (700+ Colors and Presets)
SOUNDPUNCH – (2300+ SFX – 24bit)
TRAILERPUNCH – (65 Cinematic Styles and Mixes for Trailers)
HAZE – (Over 150 Fog – Fire – Lens Damage Elements)
FRIGHT NIGHT Horror Pack (7 After Effects Horror Titles – SFX – Color Presets)
DISRUPTION VFX Suite + 4K Elements – Glitch Toolkit
FILMMAKER VFX Suite + 4K Elements – Film Look Toolkit
ANAMORPHIC CREAMS (Over 75 Real Anamorphic Glares – 4K)
ANAMORPHIC CREAMS V2 (Over 150 Real Anamorphic & Spherical Glares – 8K)
LEAKPUNCH (14 4K Light Leak Transtion Mattes)
CINEDUST (100 Authentic Dust Mattes 4K, 6K, 8K)
FRACTAL (150 Experimental Light 4K, 6K, 8K)
GLAM! (100+ Glitter Bokeh Overlays 4K, 6K)
HYPNOTINKS – Over 270 Colorfully Hypnotic INK Elements
LIGHTDROPS (200+ Light Transitions Overlays 4K & 8K)
Vimeo Video Magazine (Access to Download Single Elements in a variety of sizes)
40+ Video Tutorials & Quick Tips
Premiere, FCP7, FCPX CINEPUNCH Elements Project
Presets fo After Effects and Premiere
OVER 70 Categories

CHAOS CUTS
FRAGMENTS
GLITCH SWIPES
INVERTS (NORMAL)
INVERTS (ZOOM SHAKE)
PIXELATIONS (NORMAL)
PIXELATIONS (PIXEL ZOOM)
QUICK SWIPES
RUBBERBANDS
SLIDE PROJECTOR (BACK & FORTH STYLE)
SLIDE PROJECTOR (SMOOTH ACROSS STYLE)
WRECKED SLIDE PROJECTOR
SPINNERS
STRETCH SNAPS
SWIPE BOUNCE
WHIIPER SNAPS
TRANSITIONMIXER (IN & OUT TRANSITIONS MIXED)
BREAK BOUNCE
SLIDE STYLE
STRETCH SLIDES
SWING SLIDES
SWISH BOUNCE
SWOOP SNAPS
ZOOM FRAGMENTS
ZOOM SLIDE
ZOOM STYLE
BOUNCE STRETCH SWIPES
DREAMS DROPS
ELEGANT WIPES
EXPOSURE BLURS
FILM REEL
FILM SHAKES
GLITCHES
GLITCHE SLIDES
KALEDISCOPE
LINES
MORPHIES
OLD CHANNELS
OLD FILM REEL
PERSPECTIVE SWIPES
REEL STRETCH
SNAKES
SPRINGY
STRETCH SWIPES
SWIPES
SWISH ZOOMS
SWOOP TURNS
TIME WARP
TRACK AND SPIN
TWIRL ZOOMS
WARP STRETCH WIPES
ZOOM EFFECTS
700+ COLOR PRESETS AND CAMERA PROFILES
PRO PACK LUTS
LUX LUTS
HDR LUTS
HORROR LUTS
SCIFI LUTS
BLOCKBUSTER LUSH LUTS
CROSS PROCESSING LUTS
VINTAGE ASC LUTS
FILM STOCK LUTS
COMMERCIAL LUTS
BLEACH LUTS
CINEMA LUTS
BLOW OUTS
FX COLOR PACK LUTS
BLACK & WHITE LUTS
MONO COLOR LUTS
RETRO LUTS
TECHNICOLOR LUTS
CAMERA PROFILES
ARRI
BLACK MAGIC
BOLEX
CANON
DJI
GOPRO
KINEFINITY
NIKON
PANASONIC
RED
SONY
2300+ SOUND EFFECTS FOR MOTION DESIGN I 24BIT WAV FULLY MASTERED HD QUALITY SOUND
ABSTRACT TRANSITIONS
BOWED PIANOS
BOT SWIPES
BROKEN TAPE STRUTS
DARK UNDERTONES
DEAD SWEEPS
DIGI CLANGS
DIGI RANGS
DIGI TRANSITIONS
DIGITAL FLYBYS
DIGITAL FRISBEES
DISTORTED DROPS
DRONE BUILDERS
ECHO SWEEPS
ELECTRO SMASH
ETHEREAL HORNS
EVO SMASH
EXPLOSIVE HITS
FIREY HITS
GLITCH DETOX
GLITCH SWIPES
ELECTRO FALLS
HOLLOW HITS
LASER DOWNS
LASER GRINDS
LIFE FORMS
LO-FI HITS
LO-FI TRANSITIONS
LO-FI UP AND DOWNERS
METAL SLICES
MONSTER HITS
PIZZICATO HITS
PLASMA SWIPES
PLASMA SWIPES
PLASMA WAVES
QUICK LO-FI HTS
RETRO HITS
REVERSALS
SCRATCH BABIES
STACCATO HITS
TERRESTRIAL HITS
ARRIVALS
TRUMPETS LO
VINYL SAW HITS
VINYL STRING SWELLS
WARP DROPS
VOICE DISTORTIONS
声明:本站所有文章,任何个人或组织,在未征得本站同意时,禁止复制、盗用、采集、发布本站内容到任何网站、书籍等各类媒体平台。如若本站内容侵犯了原著者的合法权益,可联系我们进行处理。站长QQ:757753898